SP is an abbreviations for smart phone. SP Flash Tool is a tool which enhances the control you have on your smart phone. You will learn what a SP Flash tool really is and what are all the things you can achieve with it.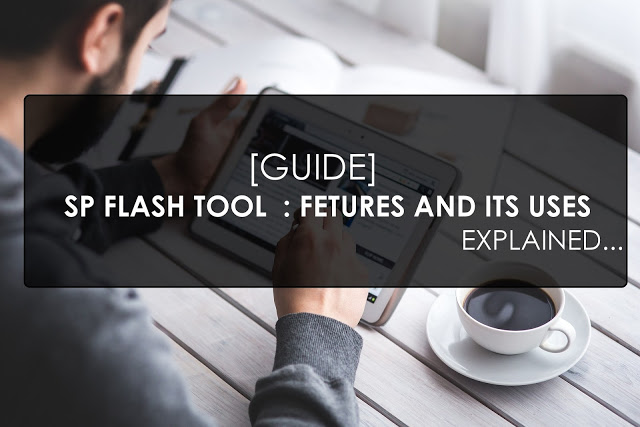 What Is SP Flash Tool?
SP flash tool is a PC Application (Software) that gives us total control of the phone. By total control we mean that it gives you access to the internal files too. This application is usable on the Mediatek smartphones. Through this application you can back-up your whole android system, so that you can install the backed up android system whenever you face a major problem with your android phones operating system, (It's like installing windows on your windows PC when there is a problem with the PC). This Tool has other functionalities as well which we will explain in brief below in the article.
Features And Functions Of Smart Phone (SP) Flash Tool
1. Back-up Android System: Through SP Flash tools you can back up your entire android system and save it on your hard drive. This backed up file is just like a windows CD. Whenever you get some errors in the system you can reinstall the backup on your smart phone again to make it work like normal.
2. You Can Flash Files Into The System: Many Mediatek Android devices now days are not rootable, for devices like that SP Flash tool is the only way to Root. By Flashing CWM or Any other recoveries (TWRP, orangefox, redwolf e.t.c) on your phone through The SP Flash tool, we can root the android phone. If you don't know what rooting is, then you can read all about rooting and Its advantages and disadvantages from the following link: What is Rooting?
3. Install Custom Recoveries On Your Phone: Adding custom recovery to your phone means adding a set of options to your phone through which you can inject any script, or flash custom ROMs and themes to your phone system. Clockworld MOD(CWM) is one of the most famous custom recovery platform for Mediatek Devices, through which you can back-up your system and command other functions.
4. Install Different Versions Of Android: Sometimes developers of phones release new versions of android unoffilcially (These are not done by the companies, they are done by android developers) and to install these android updates, you need to SP Flash tool.
5. Unbrick An Android Phone: Sometimes, when you have root access to your phone, you can mess up your system files because of which your phone will not work anymore, It will just go into a boot loop or does not show any sign of switching on, this is called as a bricked android device. If this does happen, you can download the official filmware of your android device (If you don't have a back-up) and install it on your phone through the SP Flash tool.
DOWNLOAD SP FLASH TOOL: 
Link: SP Flash Tool Download Links
Conclusion
This was all about SP Flash tools, I hope that you have understood what this crazy tool does and how it can be your saviour at times. Keep Visiting the blog as we publish more articles about this tool. Some phones require special steps to use this tool due to which the tutorials available on google will not work. So just bookmark the page and keep visiting for more android tips and tricks. You can comment below if you have any doubts about the SP Flash tool.