If you are an android geek & love to play custom ROMs, recoveries and Kernels, one day you'll encounter a hard bricked device.
Now what does hard brick mean?
A hardware error could easily result into a hard bricking situation – this is when your phone has literally become 'a brick' and there's usually no chance to unbrick it by yourself.
Note: when performing unofficial operations, the warranty gets void, so technical service might be quite expensive.
If you can't boot up your device, cannot get into recovery mode or see the boot logo this would actually leave your device in a state where it is not more than a brick.
SP Flash tool is an application for windows & Linux which you could find very useful in fixing extreme cases of a bricked MTK Android. SP Flash tool which is also known as smartphone Flash Tool provides many options like flashing custom or stock recoveries or Kernel (boot.img). As Mediatek smartphones don't have an official tool for any such problems, SP Flash tool is really a boon for Mediatek smartphone users. To learn more about this tiny yet effective tool, refer to our guide: SP Flash Tool – Complete Guide. Now, without wasting any more time, Let's get started with unbricking you Smartphone.
Requirements:
1. A PC with windows or Linux OS.
2. USB Cord
3. Manually install VCOM Drivers On The PC
4. Your bricked android device.
5. Original working stock ROM (Do a proper research as flashing the wrong ROM would permanently brick your device)
6. Download SP Flash latest version
How To Install VCOM Drivers:
1. Open the device manager from "my computer". Click on any item & go to actions > Add legacy hardware.
2. Now press next & select "install drivers manually".
3. Press next & click on "have disk".
4. From the browse option, Select "VCOM drivers" as per your OS.
5. Once Its done you will see a similar screen to this.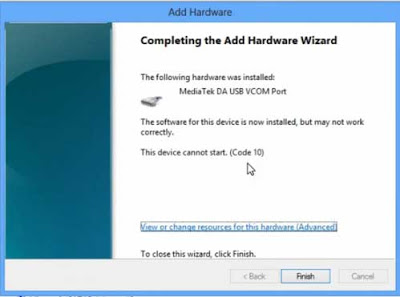 Once you are done with the installation part, go to device manager & you'll find a device similar to this: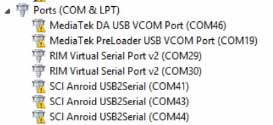 How To Flash ROM Using SP Flash Tool:
1. Remove the battery from the phone and slot it back in without starting the phone (If the battery is inbuilt then simply switch it off). Also ensure there is no SD card in the phone (SD card slot).
2. Launch SP Flash tool as administrator.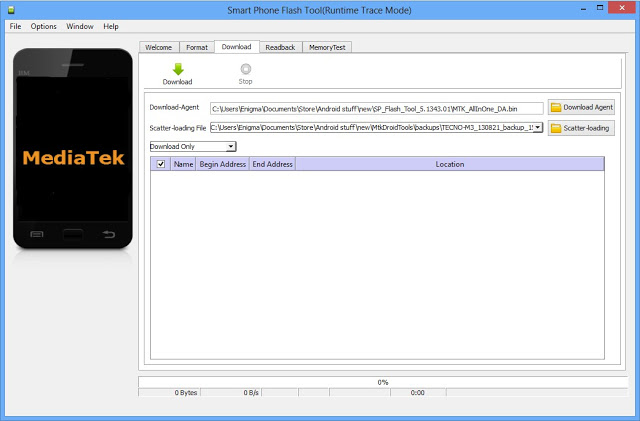 3. Click on scatter loading options & browse to the scatter file of your stock ROM. You can find the scatter file with the original stock rom zip file.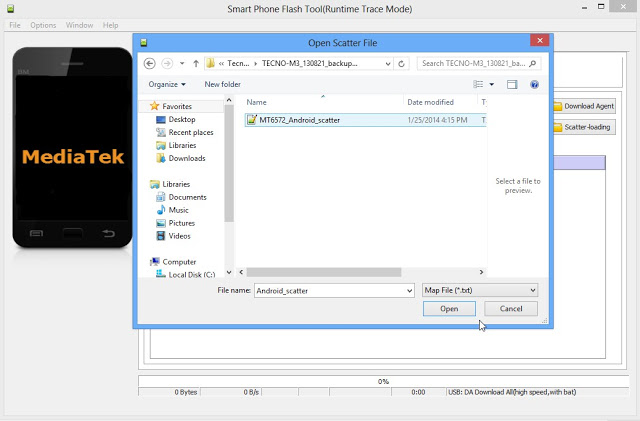 This will load a few names on your screen with a selected box.
4. Now, if you want to format your phone, click "Format" at the top.
5. Once you are done with everything, click on the "download" button at the top of the window.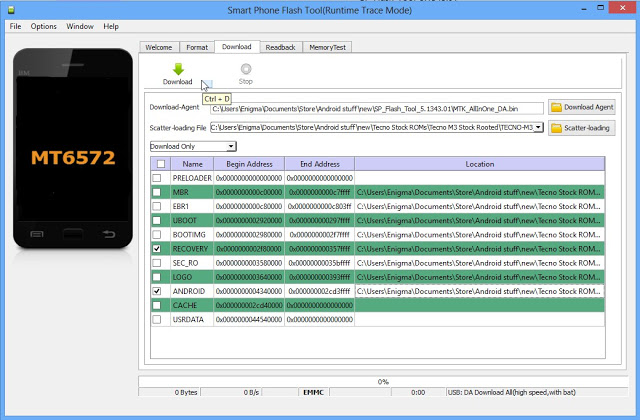 6. Stop Should now be prominent while the other options should be greyed out.
7. Connect the switched off phone (With battery inside) To the PC via the USB cord.
8. A progress bar should start running.
9. Disconnect the phone, remove the battery for 15 seconds (if removable) and which you should slot it back in and then power up the phone.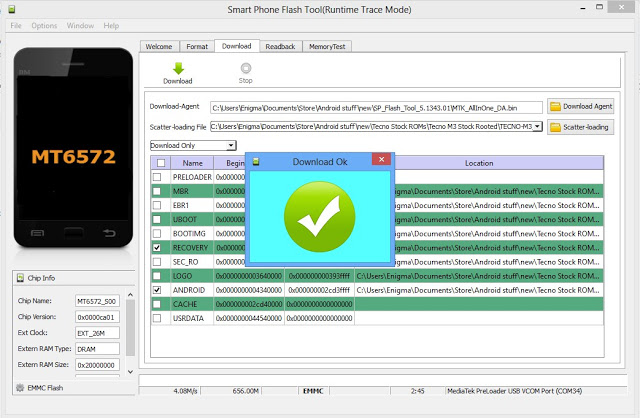 Final Words
As the procedure is a bit complex for newbies, I tried to make it as simple as possible. You can contact us from the comment form below if you are stuck at any point.